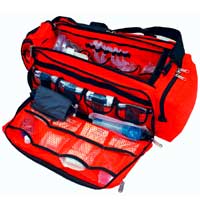 This trauma bag is designed to carry your oxygen supplies, a "D" cylinder and trauma related dressings and equipment. There are three main compartments.
The center compartment is designed to hold an oxygen cylinder and regulator. There are 4 slot pockets on each side and elastic airway loops above the pockets. The oxygen cylinder lays in an A.B.S. molded plastic tray which provide supports for the bottom and protection on each end. The sides of this compartment have plastic inserts for added protection and stability. At the head of the cylinder is a smaller pocket for shears, forceps, etc.
At the end of the bag, on the outside, is an additional pocket.
On each side of the bag is a full length pocket for total access. Each outside pocket has pockets made of nylon mesh and 4 nylon pockets with clear flaps.
Above this is a full length elastic strip. Each have a full length pocket for splints and/or large trauma dressing.
On the top of the bag is a small pocket.
An outside carrying handle allows the bag to be picked up without zipping it shut.
The bottom of the bag is vinyl coated nylon for added protection and wear.
Overall dimensions are 10" high x 15" wide x 24" long.
Silk screened White "Star of Life"
Wt. 80 oz.
Price $319.96 ea.